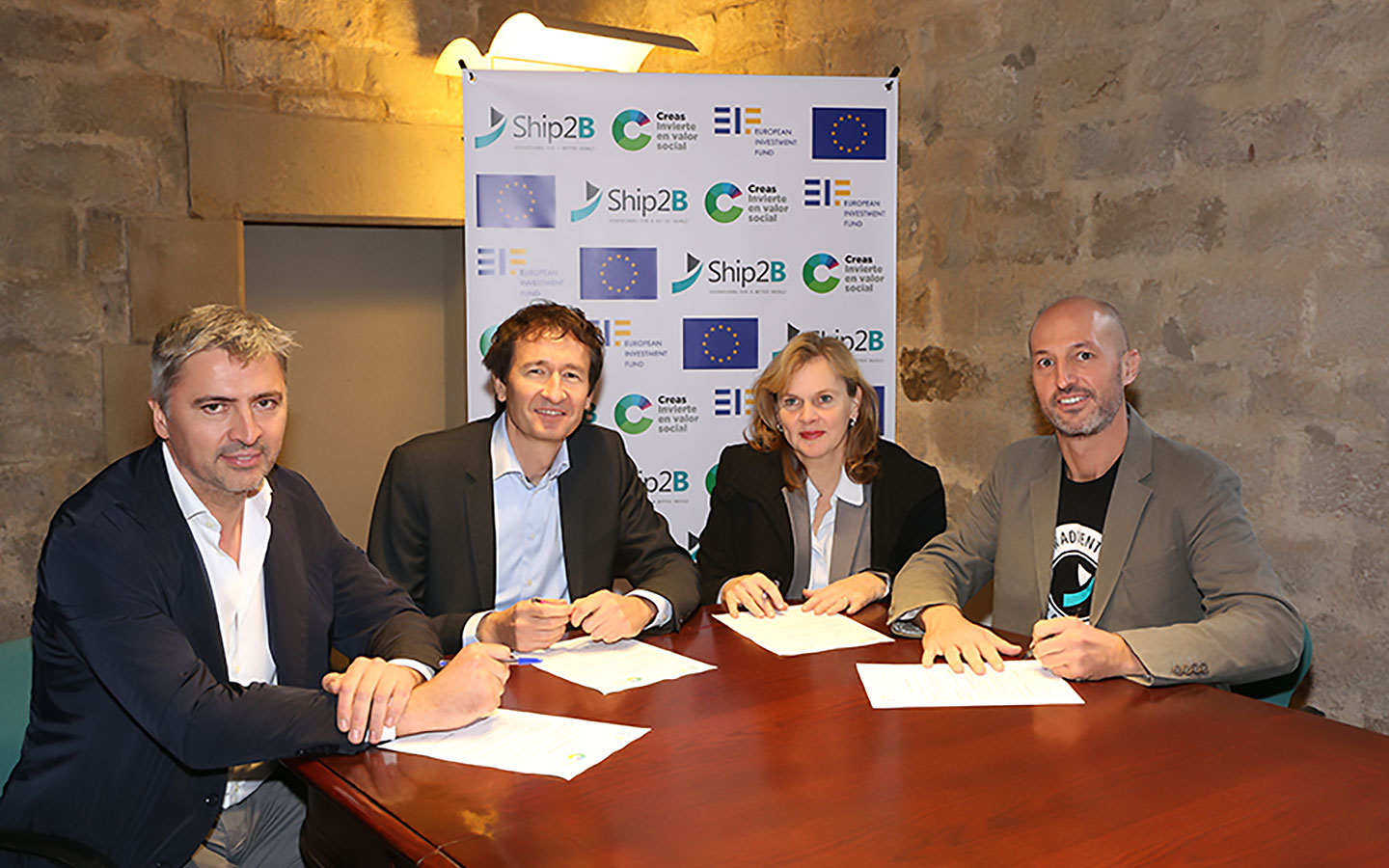 Uncategorized
The European Investment Fund (EIF) invests in Creas Impacto and Ship2B
The European Investment Fund (EIF) invests in Creas Impacto and Ship2B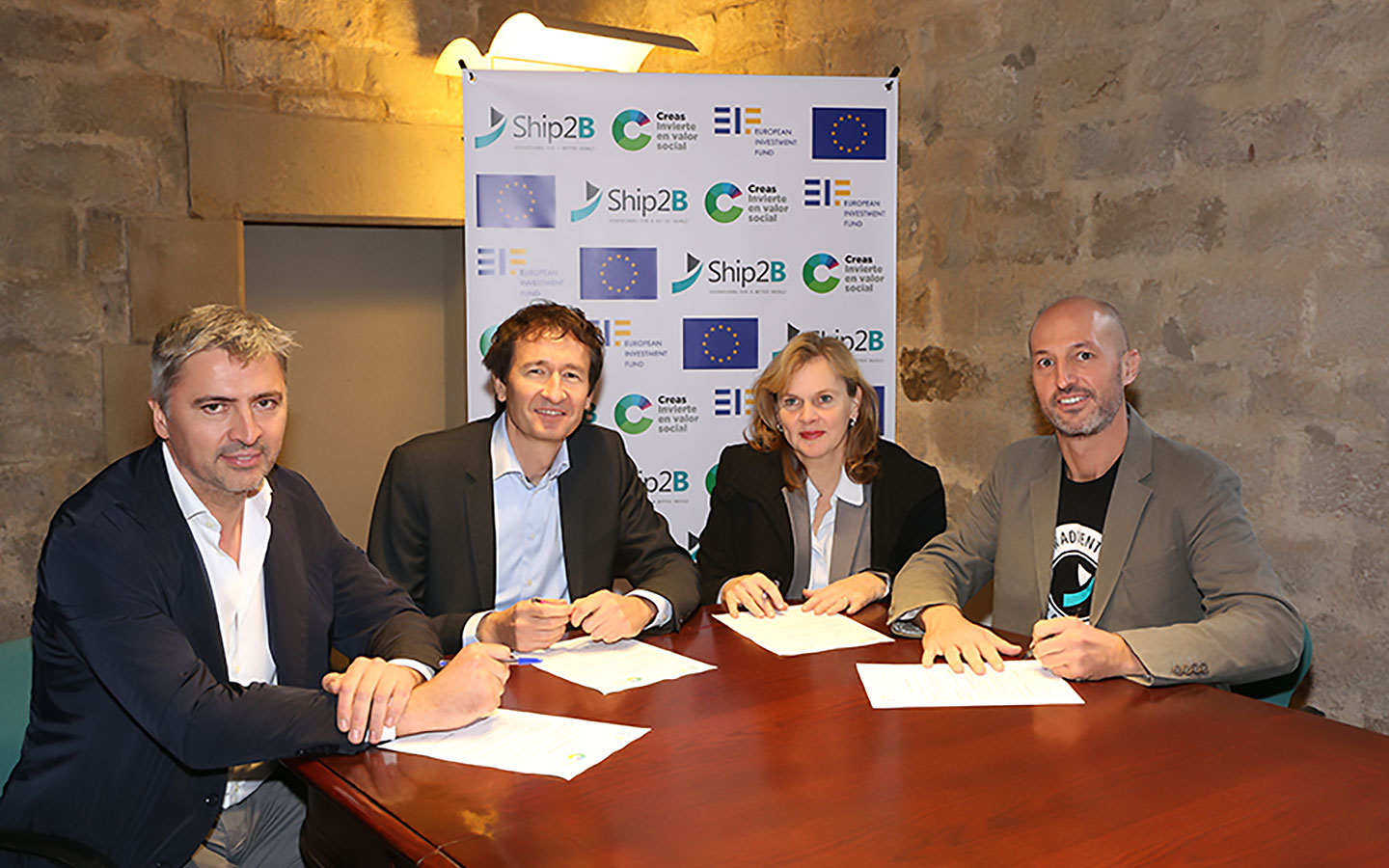 Investment of 10 million euros in Creas Impacto FESE, the first institutional impact investment fund of Spain, that will support social enterprises in growth phases.
Investment of 3 million euros in Equity4Good will be managed by Ship2B, a Spanish foundation that accelerates businesses with high social and / or environmental.
The European Investment Fund (EIF) has signed investment agreements of 10 million euros with Creas background Impact and 3 million euros with Equity4Good, managed by Ship2B to support social enterprises in Spain in seed stage start and Advanced (Seed, early stage and late stage).
Investment agreements have the support of the European Fund for Strategic Investments (EFSI you follow for their English). This fund is the central pillar of Investment Plan for EuropeEuropean Commission, called "Juncker Plan".
EIF investment in Creas Impact fund with a target of 30 million euros size, is aimed at small and medium social enterprises focused on health and wellness, environmental sustainability, education and social innovation. The team supported by the Social Impact Accelerator (SIA) EIF program is the first institutional investment fund impact of Spain. Creas Impact create social enterprises will invest in 15 start-ups and advanced, with a ticket from 500,000 euros to 3 million euros. You believe it is an investor hands-on which, besides being a member of the board of directors of its subsidiaries, also it acts as a partner to support financial decisions, and strategic management, while helping to improve impact measurement model.
Creas Impact create social enterprises will invest in 15 start-ups and advanced, with a ticket from 500,000 euros to 3 million euros.
Equity4Good is managed by Foundation Ship2B (Ship2B), a Spanish foundation based in Barcelona with the support of the European Commission and companies dedicated to accelerating social and / or environmental. The Ship2B acceleration program consists of laboratories specific sectors (health, environment and inclusion), developed in collaboration with companies such as DKV, Aigües de Barcelona, ​​Medichem and Esteve. With this agreement, Equity4Good size reaches 4 million euros. Ship2B support microsemilla approximately 30 companies with investment from 40,000 euros up to 100,000 euros with additional supplements of up to 400,000 euros, on average, representing a 5% equity of portfolio companies.
During the launch event in Barcelona, ​​the deputy director of the FEI, Uli Grabenwarter, he declared: "FEI's commitment to co-invest with Equity4Good and invest in Creas Impact supports pioneering teams, not just in acceleration but also investment in seed capital and start contributing to strengthening the ecosystem in Spain. The model of collaboration between the EIF and Ship2B and Creas could become a reference for similar actors in Europe as a way to find sustainable business models for social entrepreneurship. "
The Police station European Commissioner responsible for Employment, Social Affairs, Skills and Labor Mobility, Marianne ThyssenHe explained:"These two agreements, one backed by Juncker Plan, promote the development of social enterprises that play a crucial role in the future of our economy. I strongly believe that the support of public and private partners, as well as a committed network of investors, is key for start-ups grow successfully reach their target markets and fully realize their social mission. The European Commission has supported the initial stages of these two initiatives through grants from the EASI program (Employment and Social Innovation), helping them reach the level of investment to be objective in their respective fields. Foundation congratulate both Ship2B as Creas Impact. "
Luis Berruete,CEO of Creas Impact, He said: "As an investor reference impact, the EIF plays an essential to encourage and promote other impact investors to add their efforts to Creas impact role. This definitely helps to strengthen the ecosystem impact investment in Spain. "
Commenting operation, Xavier Pont, CEO of Ship2BHe explained: "This agreement is one of the best we have created since the creation of Ship2B. We help develop our mission to promote sarta-ups with triple bottom line (economic, social and environmental) in areas such as health, the environment or inclusion. "
On the European Investment Fund
The European Investment Fund (EIF) together with the European Investment Bank (EIB) form the EIB Group. Its mission is to support micro, small and medium enterprises (SMEs) by helping them to access finance. EIF designs and develops venture capital and growth as well as guarantees and microfinance instruments specifically targeted at this segment. Exercising this role, EIF fosters EU objectives in relation to supporting innovation, research and development, entrepreneurship, growth and employment. More information about the work of FEI under the EFSI you here.
Impact on Creas
Believe Impact is the first institutional investment fund impact of Spain with a target of 30 million euros size, and a first closing of 16 million euros, intended to invest in 15 companies in growth phase and with an inherent positive impact its business model. With 10 years of experience, Creas is a pioneer in Spain in impact investing and now the reference investment in the Spanish market. Creas team is an investor hands-onas it not only provides financial support to its investees, but also access to a network of top professionals and management support.
About Equity4Good
Equity4Good is a Spanish limited company formed by a group of private investors, managed by Ship2B and owned by the European Investment Fund (EIF). It has 4 million euros to invest in startupsa triple bottom line (economic, social and environmental). The company has already incorporated in its portfolio the following subsidiaries: Boolino, Dental Residency, Ciclogreen, Adan Medical, Neki and Qida.
On Juncker Plan
The Investment Plan for Europe (the Juncker Plan) focuses on removing barriers to investment, increase the visibility of investment projects and provide technical assistance and make smarter use of both new and existing financial resources. Until November 2018, the investment plan has already mobilized 360,000 million investment in Europe, including nearly 46,000 million euros in Spain, and has assisted 850,000 small and medium enterprises.
About SIA
Social Impact Accelerator (SIA) is a pan-European public-private partnership with a size of 243 million euros that addresses the growing need for availability of financial resources to support social enterprises. SIA is a first step in the strategy of the EIB Group (EIB and EIF) to boost ecosystem impact investing and respond to the broader goal of EU policy to establish a market for sustainable financing for social entrepreneurship in Europe.